Pahrump Valley Speedway • March 17 • All Classes • Racing @ 7:00 pm
<!- img src="http://t0.gstatic.com/images?q=tbn:ANd9GcTJ-0IOjxPPC3cRg0hx6cpzR68iyeaBDfiSPDTxdVhxBelynHvT&t=1" width="50%"->
Racing Weather

Welcome to The Bomber Nation.
We invite all drivers from all divisions to submit your information and a photo for a
driver bio. Get yourself known, and let your fans know more about you. Email us at
drivers@thebombernation.com - We have exciting things planned for this season!
If you see something, hear something, or do something race related, let us know at
The Bomber Nation.
---


Next race: March 17 - Gates @ 6:00 pm, racing @ 7:00 pm


MINISTOCK, BOMBERS, SUPER STOCK, DWARF, COUPES HOBBY STOCK, MODIFIED

We'll see you over the hump in Pahrump!
---
Jacks brothers double down as the Bullring at LVMS opens 2018 season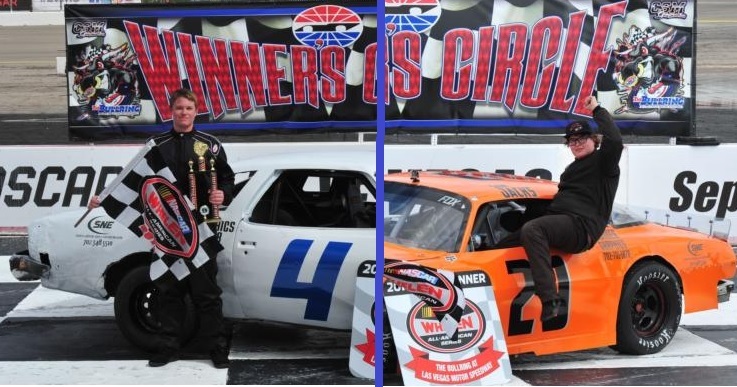 The Jacks Brothers enjoy wins at The Bullring on Sunday as the LVMS Bullring started the season of racing.
Photo Credit: Jeff Speer


Sunday was a great day for the Jacks family at The Bullring at Las Vegas Motor Speedway.

Sam and Kyle Jacks both made their way to the Winner's Circle at the 3/8-mile short track's season-opener, which was postponed one day due to rain. The brothers doubled down, with Kyle Jacks winning the NASCAR Bombers feature and Sam following with the checkered flag in the NASCAR Super Stocks division.

Kyle Jacks, the Bombers runner-up a year ago, crossed the finish line nearly four seconds ahead of Tim Maserang in that division's 25-lap feature. Kyle battled Vinny Raucci Jr. for most of the race before a last-lap spinout relegated Raucci Jr. to a sixth-place finish.

It was Kyle's 14th career Bullring triumph and got his 2018 campaign off to a great start.

"This was a hard-earned win, and I worked hard for it," said Jacks, who will celebrate his 17th birthday on March 28. "It rained yesterday and washed all the rubber off the track, so there was less traction. I held on somehow and was just driving that thing and turning back and forth the whole time. It was fun."

The 18-year-old Sam Jacks - the 2016 NASCAR Bombers track champion - withstood a restart with just five laps remaining and took the checkered 2.073 seconds ahead of Matt Cunningham. Mason Sargent was in the mix and challenging Jacks most of the race before spinning out on the final lap and finishing fifth.

"It feels pretty good, and this is something totally different than what I'm used to," said Sam, now has 12 wins at the LVMS short track. "The cars are a lot more sensitive and faster than the Bombers I came from, and I like it a lot more. I'm pretty excited."

Dustin Ash is no stranger to the Winner's Circle at The Bullring, but had to wait nearly four years between wins No. 55 and 56 at the short track. That win came on Sunday, as Ash piloted his No. 11 NASCAR Super Late Model car to the checkered flag 1.822 seconds ahead of Jimmie Parker Jr.

"It's always good to be back in victory lane," said Ash, who ranks third on The Bullring's all-time wins list. "This makes me want to come out and get some more (wins). I've had plenty of seconds and stuff, but I'm so glad to be back in victory lane in a Super Late Model.

"I had such a blast today and look forward to doing it again."

Brian Reed - the son of 2017 USLCI Thunder Car track champion Ron Reed - held off 47-time Bullring winner Doug Hamm in the NASCAR Modifieds 35-lap race to earn his first career win. Brian crossed the line .555 of a second ahead of Hamm to join his father as a race winner.

"This is my fourth year (racing), and this is sweet," said Brian, whose wife, Charlotte, served as his spotter during the race. "I'm just glad to unload, come fresh out of the box and win one of these things. We took all of the motors out of these (cars), and they said it makes it more of a driver's race. I ain't saying anything, but I've got a trophy."

Four-time USLCI Legends-Masters track champion Michael Todd Glazier edged Branden Giannini by just .030 of a second to win the 25-lap Legends race in one of the closest finishes in recent Bullring history. The two drivers battled down the stretch after a restart with just four laps remaining, with Glazier earning his second career Bullring win while denying Giannini his first trip to the Winner's Circle.

"We duked it out, it was close and it was fun," Glazier said. "My car got way loose toward the end. It was fantastic at the beginning, and then I did what I needed to do at the end.

"It was just going to go wherever it wanted to, so I did the best I could."

Chris Bosley earned his ninth career Bullring win, taking the 10-lap USLCI Thunder Cars feature ahead of Doug Germano, while Racer X won the 15-lap Skid Plate Car race. The USLCI Bandolero divisions featured a pair of first-time winners, with Landon Gresser taking the 12-lap Bandits feature and Kaden Crouch winning the 12-lap Outlaws race.

Next event: Short-track racing returns to The Bullring on Saturday, March 24, with twin 35-lap NASCAR Super Late Model features highlighting a full night of action. Kids 12 and under get in free with a ticketed adult to all Bullring events again this season.

For more information and complete results, please visit LVMS online at www.LVMS.com.
---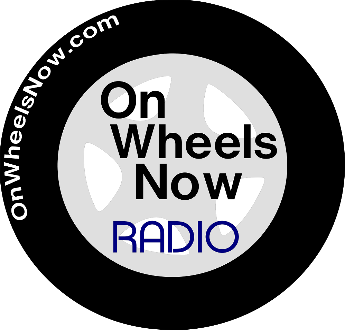 With your hosts: JJ Nunn, Gary Wyatt and Michael Riefler. Your Inside Look at Local Motorsports
The Racers Round table - racers and race fans talking about racing.
Dirt and asphalt oval short track racing, drag racing, off road racing and more ...
Interviews with race car drivers, track officials and fans.

'LIVE' Every Tuesday at 6:00pm (PST).
Listen to the show live by clicking HERE
We welcome your call, the number is (702) 485-4699




---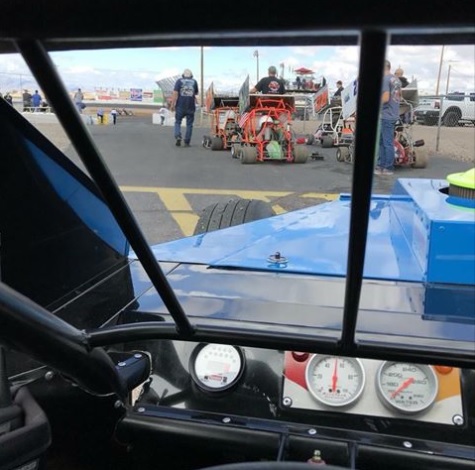 Saturday March 24 - Racing @ 6:00pm
Vintage Sprints & Midgets
Southwest Tour Trucks
Arizona Modifieds
Sam Nichols Electrical Factory Stocks
Flowers Assisted Living Team Factory
Tough Trucks
---
The 14th Annual Touch A Truck To Benefit Family To Family Connection


For more information and tickets, please visit Touch A Truck online at www.touchatruck.com.
---
• All events, dates, times and classes are subject to change without prior notice.