TOUCH A TRUCK • April 28 • 9:00am to 3:00pm • Tickets: www.touchatruck.com
<!- img src="http://t0.gstatic.com/images?q=tbn:ANd9GcTJ-0IOjxPPC3cRg0hx6cpzR68iyeaBDfiSPDTxdVhxBelynHvT&t=1" width="50%"->
Racing Weather

Welcome to The Bomber Nation.
We invite all drivers from all divisions to submit your information and a photo for a
driver bio. Get yourself known, and let your fans know more about you. Email us at
drivers@thebombernation.com - We have exciting things planned for this season!
If you see something, hear something, or do something race related, let us know at
The Bomber Nation.
---
Kyle Busch pulls away at Richmond for 3rd Cup win a row

Kyle Busch waves to the fans as he celebrates after winning the NASCAR Cup Series auto race.
Photo Credit: AP Photo/Steve Helber

RICHMOND, Va. (AP) — Kyle Busch raced to his third straight victory, celebrated, and then got yelled at by his boss.

Joe Gibbs, it seems, hadn't seen Busch climb into the crowd to acknowledge what appeared to be friendly fan.

"You did?" Gibbs said. "Oh my gosh! You should not do that. You run a risk."

For Busch, though, it seemed appropriate, coming at the end of a week marked by ample discussion of his dustup with Dale Earnhardt Jr. at Richmond a decade earlier. That race, many believe, is what cemented Busch's reputation as NASCAR's newest on-track villian.

"It was the 10-year anniversary of you know what," Busch explained, and he could see fans wearing his gear.

On the track, Busch pulled away on a restart in a two-lap overtime sprint to the finish in NASCAR's Cup Series.

Busch, who started 32nd but quickly worked his way into contention, outran Chase Elliott and teammate Denny Hamlin for his fifth career victory at Richmond Raceway, the most among active drivers. The victory is his 46th overall and came from the deepest starting spot in the field of his career. It also is the deepest starting position for a winner at Richmond, surpassing Clint Bowyer, who started 31st in 2008.

The points leader also matched Kevin Harvick's three-race winning streak from earlier in the season.

"Pats on the back, everybody," Busch said on his radio after taking the checkered flag.

The race went more than 350 laps with the only cautions coming after stages one and two, both won by defending race champion Joey Logano, who finished fourth. It remained clean until Ryan Blaney and Ricky Stenhouse Jr. crashed on Lap 353, bringing out the first on-track yellow.

Busch took the lead after the next caution, brought out by the smoking car of Ryan Newman, when he was running second to Truex heading onto pit road and got out first. He also beat Hamlin and Harvick off the line on a restart with six to go, and then never let anyone contend when the race went back to green for the final time on lap 400.

'The pit crew tonight, they won this race for us," Busch said. "They got us off pit road first those last two times and got us where we needed to be."

The three-race winning streak is the second of his career. The first came in 2015, when he won his only championship.

"I don't know if you can shoot for four in a row," he said. "It's hard to go to Tallagega with the much of a winning streak and think that you can get to Victory Lane."

The end was a bitter pill for Truex, who ran up front all night. He and Busch were dueling after a restart with 23 laps to go, and after Busch pulled away, Truex seemed to be closing ground until a spin by David Ragan brought out the yellow.

All the front-runners pitted, and while Truex's team struggled mightily in the No. 1 pit stall, Truex could only watch as contender after contender beat him off pit road. He lost at least seven spots by the time NASCAR had sorted out the next restart starting order.

It marked the 75th time he has raced on a short track in NASCAR's premier series, and perhaps the best chance he's had in those 17 chances to come away with a victory, but instead he dropped to 0-for-75 on short tracks for his career.

HOMETOWN HAMLIN: Denny Hamlin was dejected after Friday's practice sessions, saying his car was missing the mark badly.

But he rallied in qualifying, earning the fourth starting spot, and rallied again in the race for the third place finish.

"I mean, probably would have taken it after yesterday," Hamlin said of the finish. "But we got close there. We just got better as the race went on. We were 13th, 15th, something like that in the first half of the race. Just weren't very strong. We just made some really good adjustments that got us rolling towards the front, especially on long runs. We got to the top five, then we had some pit stops there."

WHERE'D HE COME FROM?: Seven-time series champion Jimmie Johnson was a non-factor all night, starting 17th and not moving forward at all until caution flags started flying for on-track incidents. Then, he steadily improved his position, finishing a remarkable sixth.

"We're taking steps forward," said Johnson, who remains winless and is just 15th in the points standings after one-fourth of the schedule has been completed. Laughing, he added: "I'd love to take a jump forward, but we're definitely taking steps forward."

STILL CHASING: Chase Elliott started second seeking his first career victory, but instead finished second, his 25th top-five finish.

The son of Bill Elliott ran outside the top 10 for much of the night, so he wasn't complaining about this finish.

"Yeah, just very fortunate circumstances there at the end for us with the way the restarts went," Elliott said. "Having a short run there at the end was definitely in our favor, so it was nice to be on the good end of things for the first time in a while."

THEY SAID IT: "I think it's easier to win the Powerball than to win at Talladega." — Kyle Busch.
---
The 14th Annual Touch A Truck To Benefit Family To Family Connection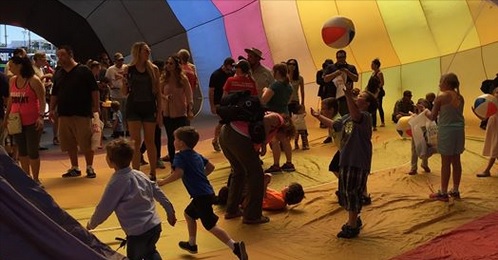 TOUCH-A-TRUCK® helps to support Family to Family Connection, Las Vegas a 501(c)3, non-profit.

Family to Family Connection, Las Vegas helps to build stronger families and gives them the tools to provide a safe and nurturing environment for their children through parent education and community networking.

We provide educational and emotional support that empowers parents and helps them become the best parents they can be. The end result is healthy, confident children leading to a stronger community.

Established in 1998, Family to Family serves more than 600 families per month offering various classes and support groups. The parent-participation classes we offer help to build strong bonds between parents and their babies and provide training on key developmental areas including early physical, social and emotional issues. Classes are just $5 or $20 for the month (unlimited).

Parents have come to rely on Family to Family for advice, referrals, education and a place to connect with other parents.

The 14th annual Touch A Truck will be on April 28, 9:00 am to 3:00 pm at the Orleans Arena (4500 W Tropicana Ave, Las Vegas, Nevada 89103)

EXTENDED HORN FREE HOUR 9 AM - 11 AM

FOR CHILDREN WITH SPECIAL NEEDS & SENSITIVE EARS

All proceeds to benefit Family To Family Connection

For more information on Touch A Truck, and tickets, please visit Touch A Truck online HERE.

For more information on Family To Family Connection, please visit their website HERE.
---


Next race: April 28 - Gates @ 6:00 pm, racing @ 7:00 pm


MINISTOCK, BOMBERS, SUPER STOCK, DWARF, COUPES HOBBY STOCK, MODIFIED

We'll see you over the hump in Pahrump!
---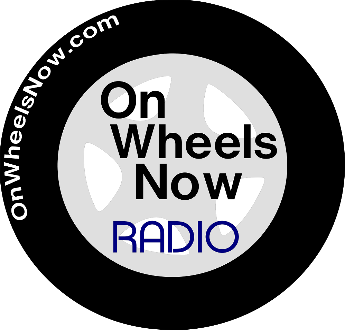 With your hosts: JJ Nunn, Gary Wyatt and Michael Riefler. Your Inside Look at Local Motorsports
The Racers Round table - racers and race fans talking about racing.
Dirt and asphalt oval short track racing, drag racing, off road racing and more ...
Interviews with race car drivers, track officials and fans.

'LIVE' Every Tuesday at 6:00pm (PST).
Listen to the show live by clicking HERE
We welcome your call, the number is (702) 485-4699




---
Harder wins second straight Big Rigs feature at The Bullring at LVMS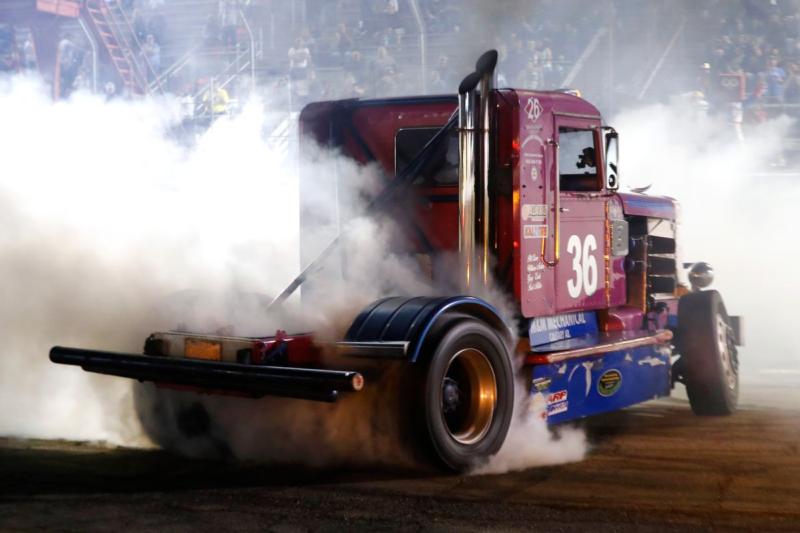 Isaac Harder performed quite a burnout after winning the North American Big Rig Racing feature.
Photo Credit: Jeff Speer


Isaac Harder loved his trip to the Winner's Circle so much last year, he decided to double down and do it again.

The Crossfield, Alberta, driver won the North American Big Rig Racing Series' season-opening 40-lap feature at The Bullring at Las Vegas Motor Speedway in front of a boisterous crowd on Saturday night. Nearly a dozen Big Rigs made the long trek from north of the border to kick off their 2018 season in style in Las Vegas.

"I'm learning this track, and I love this track," Harder said after the win. "For us to come out here and have our first race of the year is an exciting thrill. I'm pretty sure there will be a few libations, and we'll be hitting the Strip later."

Tyler Fabozzi won his second consecutive NASCAR Super Late Models event after holding off Jimmy Parker Jr. down the stretch following a re-start with just four laps remaining. Fabozzi crossed the line .815 of a second clear of Parker Jr. to make his ninth career trip to The Bullring's Winner's Circle.

"A big thank you to T.J. Clark, my dad, my whole crew and everybody who helped get this car here to the Winner's Circle," said Fabozzi, who won the USLCI Legends track championship last year. "We're certainly thinking about the points, and after the first two races, we were pretty far back. Now, we've just got to stay consistent and keep winning them all."

In the NASCAR Modifieds division, veteran Doug Hamm reeled off victory No. 49 at the LVMS short track after finishing 1.170 seconds ahead of Brian Reed for the checkered flag. It was Hamm's second consecutive win at The Bullring.

"It's never easy, and I've just got great help," Hamm said. "I want to thank my family over in the Stockyard for coming out, and they never miss a race. Every now and again, you've got to get lucky to bring home these checkered flags."

Sam Jacks won for the second time in three races in the NASCAR Super Stocks class, finishing .969 of a second ahead of Mason Sargent. It was Jacks' 13th career trip to the Winner's Circle at The Bullring, putting him two behind his younger brother, Kyle.

"I really am blessed," said Sam Jacks, the 2016 NASCAR Bombers track champion. "My dad and Court (Connell), they gave me a fast car, and every week it's quick. It's a lot of fun to come out here and have the opportunity to do this."

Vinny Raucci Jr. earned his first NASCAR Bombers win of 2018 after holding off Tim Maserang by .240 of a second. Points leader Kyle Jacks was sent to the back of the pack midway through the 25-lap feature for causing Raucci Jr. to spin out, but fought back for a fifth-place finish.

The win was Raucci Jr.'s eighth career triumph at the 3/8-mile paved oval.

"This is awesome," Raucci Jr. said. "Kyle (Jacks) and I do race pretty hard on our bumpers and race like we should, and we do lean on each other a lot. I like that racing, and it's fun. It just feels good to come out on top this time."

Jaron Giannini held off his brother, Branden, by 1.845 seconds in the 25-lap USLCI Legends race to earn his first victory in that division. It was the third career Bullring win for Jaron, a two-time USLCI Bandolero Outlaws race winner last year.

"This feels pretty good," Jaron Giannini said. "I just checked out and kept going."

The 12-lap USLCI Thunder Cars feature came down to the wire, with Ed Hohman holding off Chris Bosley by just .196 of a second to secure his fifth career Bullring victory.

Tanner Reif will remember his first Bullring win for quite some time after crossing the finish line sliding sideways after an epic battle with Kyle Keller. Reif finished .885 of a second ahead of Keller, who led most of the 40-lap feature, after the two made contact coming to the flag on the final lap.

"We're finally here, and we're ready to race," the 12-year-old Reif said of his division's Bullring season debut. "I'm just so glad I could be here racing today."

Camden Larsen gave his mother, Solinda, a great birthday present by winning the 12-lap USLCI Bandolero Outlaws feature to start the night's festivities, while Landon Gresser remained perfect on the season after winning the 12-lap USLCI Bandolero Bandits race. Larsen finished 2.046 seconds ahead of Amilleo Thomson, and Gresser edged Sabastian Lafia by .507 of a second.

Next event: Racing is back at The Bullring on Saturday, April 21, with Hometown Heroes Night on tap for the special evening. All area law enforcement officers, firefighters and first responders and their families get in free with a valid ID, and fans' children who are 12 and under get in free with a ticketed adult.

Tickets are available on www.LVMS.com.

Big Rig Racing Season Opener
The Bullring at LVMS
Complete results

USLCI Bandolero Outlaws 12-lap feature
1. Camden Larsen; 2. Amilleo Thomson (-2.046 seconds); 3. Cody Brown (-2.395); 4. Kaden Crouch (-3.252); 5. Chloe Lynch (3.410); 6. Cameron Guy (-4.332); 7. Cody Kiemele (-4.647); 8. Brendan Tracy (-5.838); 9. Ethan DeGuevara (-11 laps).

USLCI Thunder Cars 12-lap feature
1. Ed Hohman; 2. Chris Bosley (-.196 of a second); 3. Roger Hocking (-2.435); 4. Darin Calloway (-3.066); 5. Doug Germano (-3 laps).

USLCI Bandolero Bandits 12-lap feature
1. Landon Gresser; 2. Sabastian Lafia (-.507 of a second); 3. Tuscan Nuccitelli (-2.564); 4. Levi Barral (-1 lap); 5. Ashton Leonard (-1 lap); 6. Branch Danko (-1 lap); 7. A.J. Blackwill (-2 laps); 8. Eliana Danko (-3 laps).

NASCAR Super Stocks 25-lap feature
1. Sam Jacks; 2. Mason Sargent (-.969 of a second); 3. Matt Larsen (-4.627); 4. Chuck DeGuevara (-4.874); 5. Matt Cunningham (-8.955); 6. Chad Mattos (-17.306); 7. Billy Paddack Jr. (-23 laps).

Jr. Late Models 40-lap feature
1. Tanner Reif; 2. Kyle Keller (-.885 of a second); 3. R.J. Smotherman (-7.250); 4. Austin Edwards (-6 laps).

NASCAR Modifieds 35-lap feature
1. Doug Hamm; 2. Brian Reed (-1.170 seconds); 3. Payton Garofalo (-1.825); 4. Mason Sargent (-3.828); 5. Joe DeGuevara (-5.702); 6. Pat Petrie (-8.680); 7. Steve Durbin (-9.010); 8. Tom Pfundstein (-11.426); 9. Ron Reed (-13.554).

NASCAR Super Late Models 50-lap feature
1. Tyler Fabozzi; 2. Jimmy Parker Jr. (-.815 of a second); 3. Dennis Rock (-1.324); 4. Scott Gafforini (-1.565); 5. Kayli Barker (-2.985); 6. Dezel West (-3.684); 7. Steve Anderson (-4.030); 8. David Anderson (-4.075); 9. Johnny Spilotro (-4.883); 10. Charlie Pike (-3 laps); 11. Kayla Eshleman (-7 laps); 12. Ray Hoffman (-8 laps); 13. Stan Mullis (-18 laps); 14. Toni Breidinger (-32 laps); 15. Luke Hall (-50 laps).

North American Big Rig Racing 40-lap feature
1. Isaac Harder; 2. Cory Riplinger (-.825 of a second); 3. Jaeger Berdahl (-18.454); 4. Ron Singer (-19.073); 5. Brady Riplinger (-20.338); 6. Ashley Creed (-1 lap); 7. Lonnie Grzech (-24 laps); 8. Gino Howe (-39 laps).

USLCI Legends 25-lap feature
1. Jaron Giannini; 2. Branden Giannini (-1.845 seconds); 3. Devin Lane (-1.937); 4. Michael Todd Glazier (-3.088); 5. Dylan Fabozzi (-3.621); 6. Parker Steele (-3.815); 7. Brian Williams (-5.534); 8. Kayla Eshleman (-7.867); 9. Jordon Holloway (-1 lap); 10. Bruce Silver (-11 laps).

NASCAR Bombers 25-lap feature (Unofficial)
1. Vinny Raucci Jr.; 2. Tim Maserang (-.240 of a second); 3. Jim Merlino (-.622); 4. Adam Simon (-1.603); 5. Kyle Jacks (-4.210); 6. Steve Danko (-7.528); 7. Mark Skinner (-7.916); 8. Kirk Hance (-8.133); 9. Michael Miller (-11.238); 10. Zachery Nicholls (-11.562); 11. Anthony Mann (-16.324); 12. Joseph Bradbury (-16.652); 13. Arlie Daniel (-17.764); 14. Tia Guy (-1 lap); 15. Steve Dewey (-1 lap); 16. Carl Duryee (-4 laps); 17. Bradley Thompson (-10 laps); 18. Billy Hern (-24 laps).

---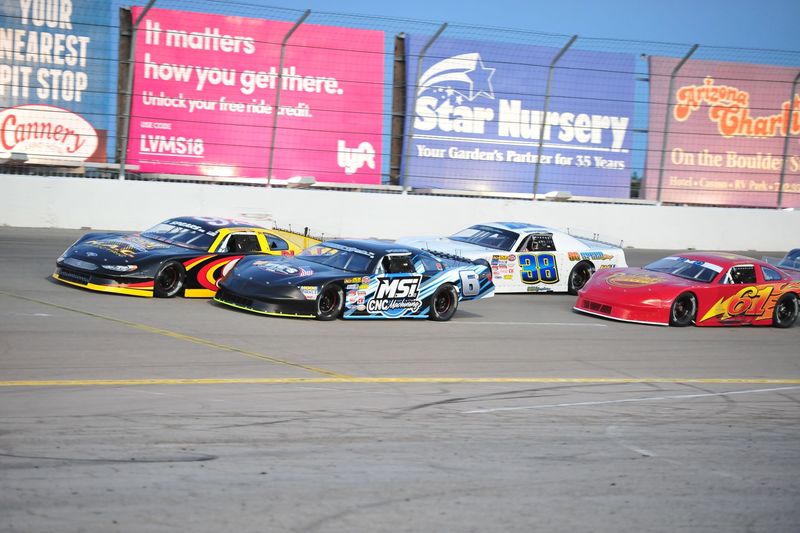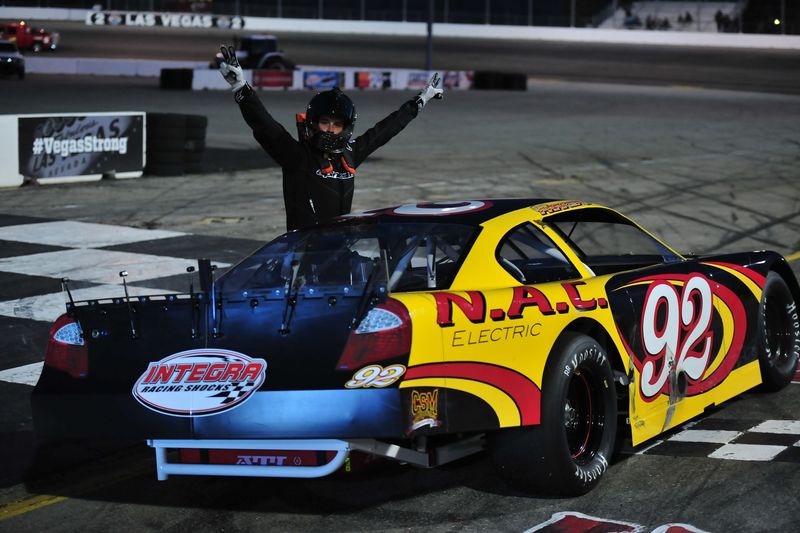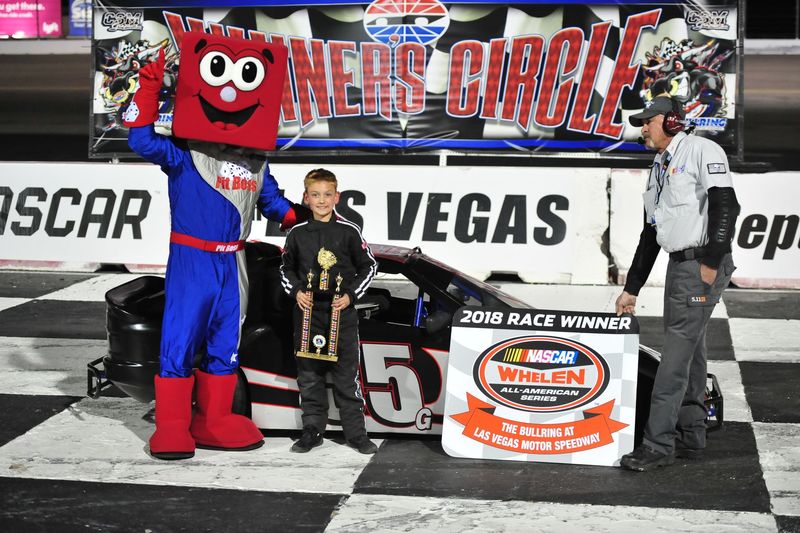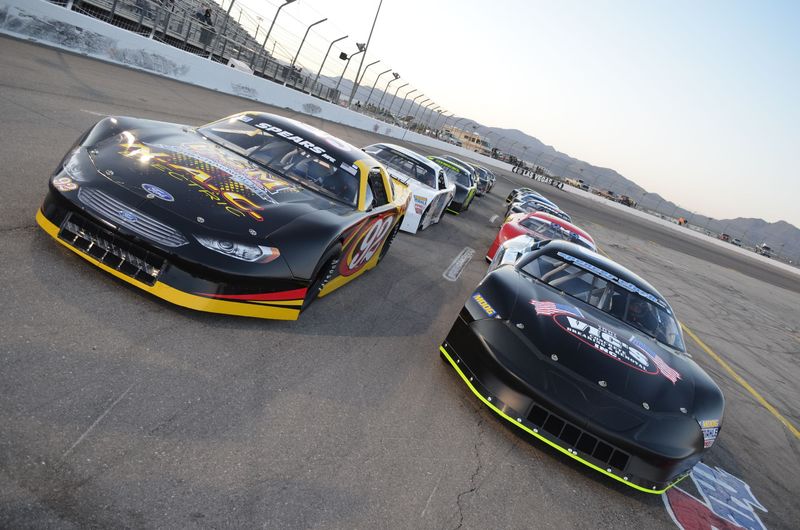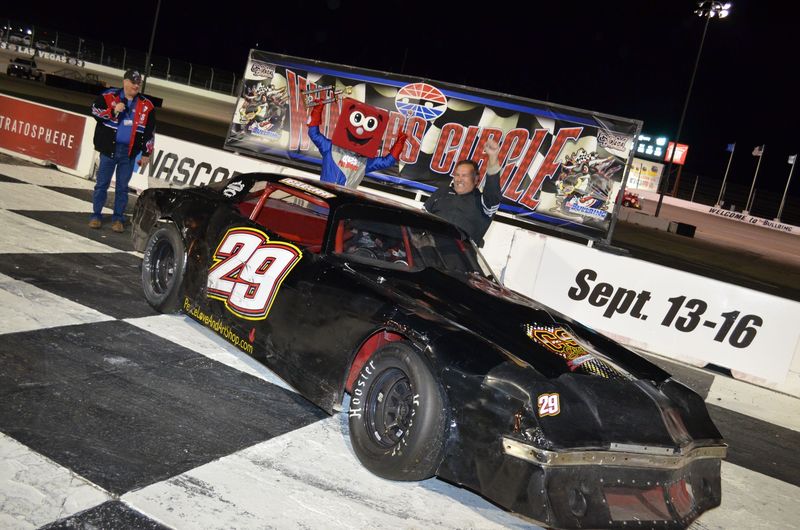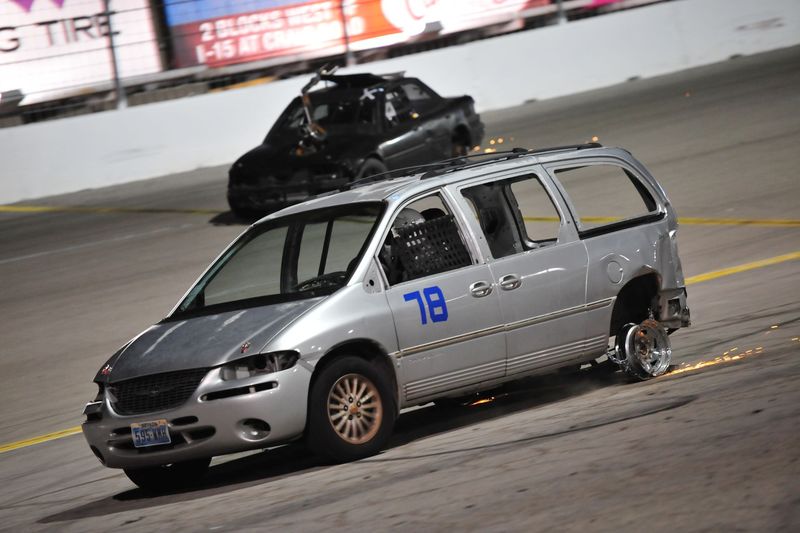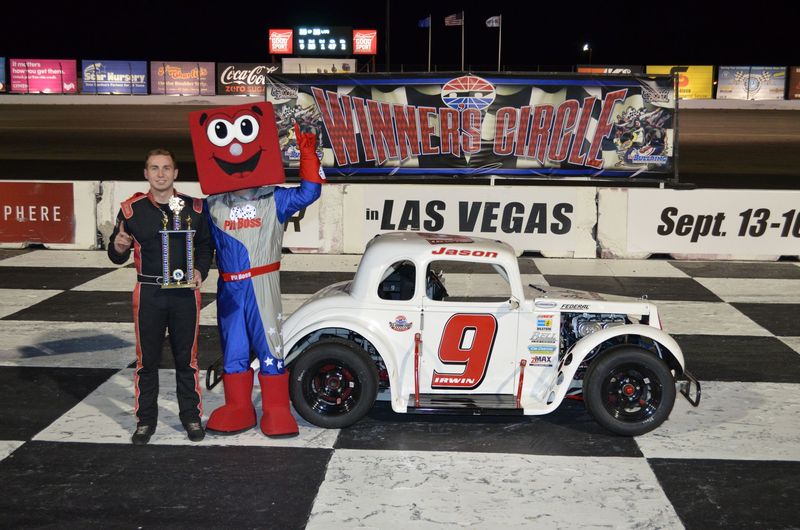 Richie Abbott/Instant Images - April 2018
---
• All events, dates, times and classes are subject to change without prior notice.